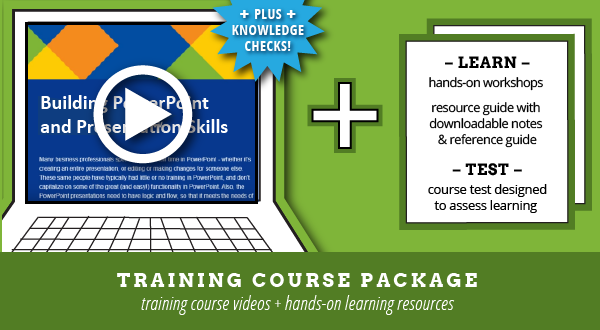 $79.00
$99.00
Building PowerPoint and Presentation Skills
Course Overview
Participants build their skills in technical and tactical functionality of PowerPoint and presentation skills. By understanding the fundamentals of PowerPoint, participants become more efficient in developing effective, succinct, and impactful presentations. The presentation skills included in this course allow participants to take their great PowerPoint presentations, and effectively present them to either internal or external audiences. This course is broken into 2 distinct parts, first focusing on PowerPoint skills, then on presentation development and delivery.
Learning Objectives
Maximize the basic functionality in PowerPoint to save time and develop more effective presentation;
Follow presentation guidelines that help create fluid, visually appealing and coherent presentations; and
Assess their own presentation techniques and have tools to assess and improve their skills going forward.
  Approximately 2.5 hours course time 




Training Course Package, $99 USD
30-day Access via CMKG's Online Training and Resource Center. Desktop, Laptop and Mobile Device compatible. 
Hands-On Workshops
Downloadable Notes & Reference Guide
Knowledge Checks
Course Test
CMKG's Online Training and Resource Center includes many resources you can use in your day to day work: a Resource Library with whitepapers, articles, tips and tricks and more, as well as a dynamic Industry Glossary with >1300 terms, each with a definition, and formulas and links to other related descriptions.