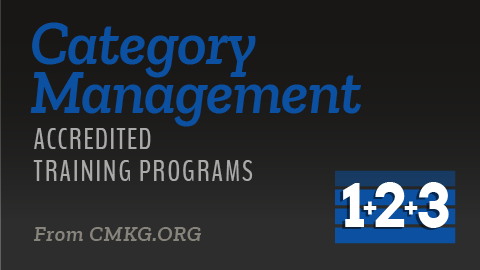 $1,299.00
$2,149.00
Category Management Programs - Levels 1+2+3 (Foundational + Intermediate + Advanced-Accredited)
This category management training program gives you access to all of our accredited category management courses at the Foundational, Intermediate and Advanced levels. You will have 1 year to complete these courses.
Learn everything you possibly can about category management in this expanded set of accredited courses.  If you are serious about category management and want to become proficient at all levels, this program is ideal for you, and gives you the best bang for your buck. An "all course access" gives you access to 34 courses (29 accredited), with two years access to the full program in our Online Training & Resource Center.
Program Curriculum
Category Management Overview
Retailer Strategy
Category Definition and Segmentation
Category Roles
Category Strategies
Understanding and Using Data
Category Assessment
Category Tactics and Analytics
Category Management on Limited Data
Develop and Implement the Category Plan
Building PowerPoint and Presentation Skills
Building Excel Skills
Building Data Competency: Panel Data
Building Data Competency: POS Data
Measuring Category Health (Baseline & Incremental Drivers)
Efficient Assortment: A Step-by-Step Process
Pricing Strategies and Analysis Techniques
Promotion Analysis Techniques
Advanced Analytics: Relativity
Fact Based Selling
Space Management Fundamentals
Leveraging Data for Advanced Shelving Solutions
Store Clustering Through Store Level and Geodemographic Data
Understanding and Marketing to Your Shopper
Retailer Economics and the Product Supply Chain
Strategic Supply Chain Management
Strategic Selling
BONUS COURSES
Collaborative Business Planning.
Increasing Your Effectiveness in an Analytical World
Hispanic Americans: An Opportunity for Marketers and Retailers
Baby Boomers: An Incredible Marketing Opportunity
Retailer Strategy in the Convenience Channel
In-Store Marketing Overview: The Basics
6 Steps to Create Effective In-Store Marketing Materials
Program Details
Approximately 80-90 hours to complete
Prerequisites: None
2-year Access to CMKG's Online Training and Resource Center
Ongoing student support (Email, Live Chat) 
Note: The program will be added automatically to your account at time of purchase. It may take 1-2 business days for the other components to be added.
* Does NOT include any fees associated with CMA registration, examination &/or certification.

* There are 3 optional Case Studies (1 per level) to enhance the learning experience that can be purchased separately​
*CMKG's Online Training and Resource Center includes many resources you can use in your day to day role: a Resource Library with whitepapers, articles, tips and tricks, e-books and more; a dynamic Industry Glossary with >300 terms, each with a definition, and formulas and links to other related descriptions.