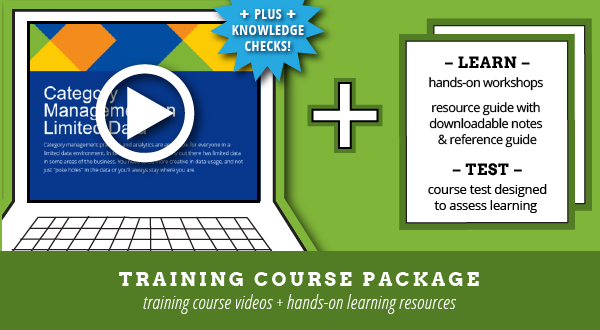 $79.00
$99.00
Category Management on Limited Data
Course Overview
This course gives meaningful insights into maximizing data in a limited data environment. Participants review different report layouts and perspectives, based on limited data in different areas of the business. They learn about the importance of a trust between retailer and strategic trading partners to be successful in a limited data environment, with participants completing the course having examples that they can take back to their desks as examples. The tactics will also be included in the analytics, with suggestions on how to gather and analyze the data for meaningful insights.
Learning Objectives
Describe the data sources required to take a "basic" category management approach;
Explain the importance of the retailer/supplier relationship in a limited data environment; and
Explain how to analyze the data from both a retailer & supplier perspective, and across the tactics.
Approximately 2 hours course time 




Training Course Package, $99 USD
30-day Access via CMKG's Online Training and Resource Center. Desktop, Laptop and Mobile Device compatible. 
Hands-On Workshops
Downloadable Notes & Reference Guide
Knowledge Checks
Course Test
CMKG's Online Training and Resource Center includes many resources you can use in your day to day work: a Resource Library with whitepapers, articles, tips and tricks and more, as well as a dynamic Industry Glossary with >1300 terms, each with a definition, and formulas and links to other related descriptions.