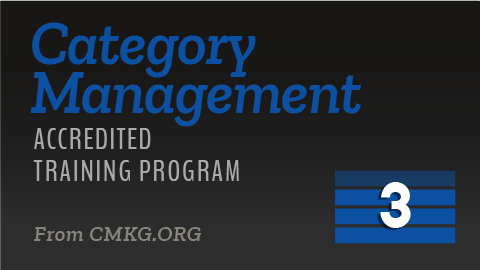 $349.00
$499.00
Category Management Program - Level 3 (Advanced-Accredited)
This advanced training program is designed to build skills in areas like shopper and product supply. It includes a set of on-demand courses that gives participants the skills to function at an advanced level in their role in retail / CPG / FMCG.  This program meets all learning requirements for the CPSA designation.   
Who should take this course? For those looking for an advanced understanding of Category Management - and/or who is looking to achieve designation at the advanced  level.  
On-Demand Courses Included  
Leveraging Data for Advanced Shelving Solutions 
Understanding and Marketing to Your Shopper 
Strategic Supply Chain Management 
Strategic Selling 
Collaborative Business Planning  
Program Details  
Approximately 20 hours course time 
365-day Access via CMKG's Online Training and Resource Center
Recommended prerequisite: Intermediate category management understanding. 
* Does NOT include any fees associated with CMA registration, examination &/or certification.