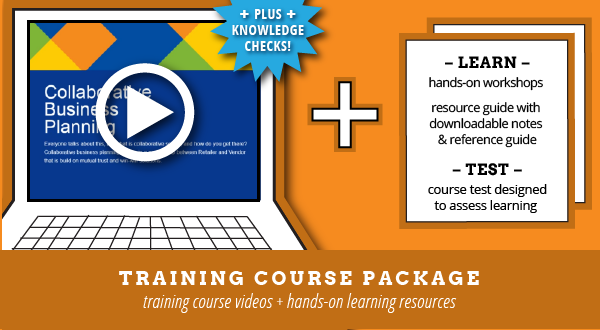 $79.00
$99.00
Collaborative Business Planning
Course Overview  
This course gives participants the skills to enable effective collaboration between partners, as well as teaches them how partnerships provide a structure to organize, plan and implement mutually beneficial ideas. It also walks through joint business planning in detail, identifying a framework from which joint business planning should be completed. Participants develop key skills to help them become more consultative category professionals and enables them to become more effective with their efforts to solve customer's key business issues.  
Learning Objectives  
Describe how retailers & manufacturers collaborate most effectively; 
Develop collaborative recommendations that deliver win-win outcomes for all; 
Articulate key methods of influencing others; 
Build productive relationships; 
Effectively handle concerns, questions and objections; 
Demonstrate effective techniques to probe for understanding; 
Employ good listening skills; 
Gain customer's trust; and 
Solve their retailer's problems with practical recommendations. 
  Approximately 2 hours course time




Training Course Package, $99 USD
30-day Access via CMKG's Online Training and Resource Center. Desktop, Laptop and Mobile Device compatible. 
Hands-On Workshops
Downloadable Notes & Reference Guide
Knowledge Checks
Course Test
CMKG's Online Training and Resource Center includes many resources you can use in your day to day work: a Resource Library with whitepapers, articles, tips and tricks and more, as well as a dynamic Industry Glossary with >1300 terms, each with a definition, and formulas and links to other related descriptions.