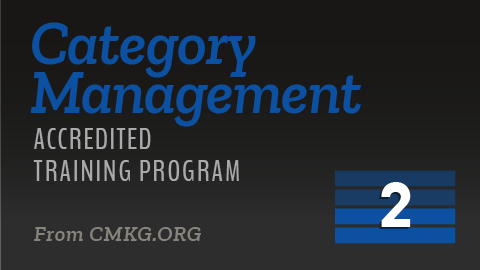 $699.00
$1,099.00
Category Management Program - Level 2 (Intermediate-Accredited)
This training program is designed to build category management skills at an intermediate level, including in-depth data and analytics across key data sources and the category tactics.  It includes a set of on-demand courses that will give participants skills to function at an intermediate level in their category management or sales role in retail / CPG / FMCG. 
Who should take this course? Retail, category management, sales and shopper teams looking for an intermediate understanding of Category Management.  
Options: Available with or without the CPCM Exam Preparation Materials package
On-Demand Courses Included
Building Data Competency: Panel Data 
Building Data Competency: POS Data 
Measuring Category Health (Baseline & Incremental Drivers) 
Efficient Assortment: A Step-by-Step Process *
Pricing Strategies and Analysis Techniques 
Promotion Analysis Techniques 
Advanced Analytics: Relativity 
Fact Based Selling 
Space Management Fundamentals 
Store Clustering Through Store Level and Geodemographic Data 
Retailer Economics and the Product Supply Chain
Program Details  
Approximately 30-35 hours course time 
365-day Access via CMKG's Online Training and Resource Center
Recommended prerequisite: Level 1 (Foundational Program) 

* Does NOT include any fees associated with CMA registration, examination &/or certification.